Orlando, Fla.—As we all transition and get excited for the beginning of the "ber" months, it is important to understand that every season our homes require certain specific maintenance tasks to keep safe your property and your family.
For example:
During the fall we love the romance of the leaves falling, but that brings an extra chore to take on. We also know, it's the beginning of the baking and cooking season. Not doing proper maintenance for the appliances, and the areas were we keep them could represent a risk of failure, and even a potential accident in your house.
Some of the actions recommended to keep your home safe during the fall, include but are not limited to:
Remove leaves— especially those in the gutters areas are recommended to be removed monthly. Before the season begins, test your leaf blower to ensure it's working correctly.
Schedule a maintenance service for your heating system, especially if you have noticed any issues. Although we may still be dealing with hot weather conditions, you don't want to leave this for the last minute to then wait on line for your service provider's availability.
Doors and windows— are important during weather changes, this may be a good time to make sure you don't have any leaks or drafts and install weather stripping on your windows and doors. The best way to find out is to contract an inspector for the assessment. This preventive measure may help you save on use of energy and what you pay for it.
Oven, range, stovetop, and microwave might become very popular this season. Make sure to clean your gas range ignition or the prongs of your electric range burner and keep all other appliances and equipment that will increase its use as we approach the holidays. This will not only prevent equipment malfunction, but even a fire and a huge headache.
Test smoke and carbon detectors— mostly a task that we leave for the "Fall Back Day" as a tradition, but just as important as the others.
Chimneys— Professionals recommend to:
Dust the inside of your fireplace often
Use a fireplace damper when it's not in use to keep out water and moisture
Watch out for cracks in the bricks
Replace damaged fireplace screens right away
Once you have done your maintenance check up and have all your systems and equipment operating properly, you are ready to begin the fun with family and friends that come with this beautiful season.
For us in Orlando it is also important to remember that the Atlantic Hurricane Season ends November 30, so we must be prepared to respond to any emergency preparations required by these weather events. Don't forget most flood insurance policies may requiere 30 days to activate. As always, homeowners insurance is your best ally, so talk to one of our experienced agents to help you choose the right coverage for your lifestyle and type of property.
Our local insurance specialists at Orlando Insurance Center will also help you save in the purchase of insurance bundles. Give us a call today at (407) 680-1214— for an initial consultation and quotes from among 20 different insurance carriers who support us!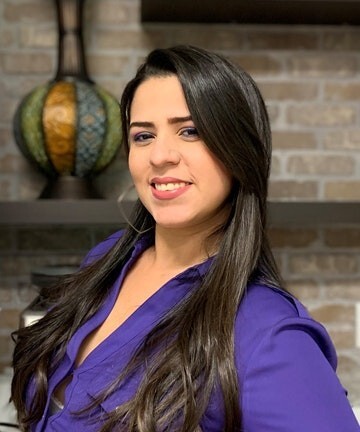 Fabianna Diaz, 4-40 CSR

CLIENT SUPPORT SPECIALIST
SALES AND SUPPORT