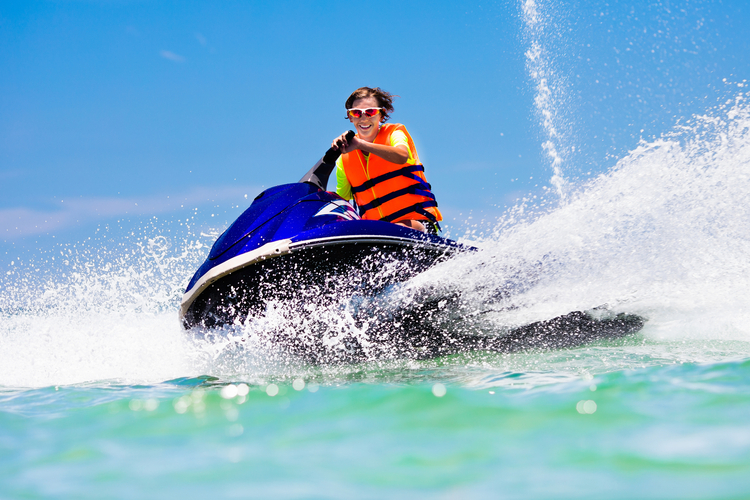 Orlando, Fla.—Yes, it's almost the season, but this is Florida! Spring Break is just around the corner and we all want to be ready for outdoor fun, which for us means, water. Families will shop for their preferred personal watercraft to enjoy spring and summer, right here in the Sunshine State. A PWC/jet ski is a fun and affordable way to get out on the water. The fuel and annual maintenance costs are relatively low, and you can store it in your garage for the off-season.
Jet skis, for example, are one very popular option you can find in almost any of our many beaches, lakes, and rivers. Only a few states mandate boat insurance, but PWC insurance is important if you're liable in an on-water accident or you damage your watercraft. Every common PWC type, including Jet Skis, WaveRunners, and Sea-Doos should be protected by Personal Watercraft Insurance (PWC.)
Jet ski insurance, which frequently falls under the title of personal watercraft insurance, will help you avoid the unexpected expense that comes with damage related to storms, unexpected accidents, fires, and even traveling. It works like auto insurance covers your car, with different coverages and protections selected based on your policy. You may want to explore your options of liability, collision and comprehensive coverage
Jet Ski insurance insurance, just like home, auto and other personal insurance coverage come in several shapes and sizes, and finding the right policy can be challenging.
Personal watercraft insurance, on the other hand, helps pay for accidental damage, fuel spill protection and offers optional coverages like rental reimbursement and even Roadside Assistance.
You can customize your personal watercraft insurance to fit your needs. Some options to discuss with your agent include:
Medical payments coverage
Personal effects coverage
Broad navigation
Roadside and on-water assistance
Fuel spill protection
Limitations and exclusions
Uninsured boaters
Towing versus emergency assistance
Jet Ski Insurance is different from Boat Insurance, although both fall under the umbrella of watercraft insurance.
There are three different types of watercraft insurance and you can find these solutions and more at Orlando Insurance Center:
Boat Insurance
Personal Watercraft Insurance
Yacht Insurance
At Orlando Insurance Center we are a full-service independent insurance local agency in Orlando, Florida. As such, we are available to offer a much broader menu of insurance products for our customers than you would find buying direct from one company. We pride ourselves on being able to customize insurance coverage for the unique needs of our community, and our attentiveness is unparalleled. Our clients love that we are not just selling the insurance but educating them on protecting their assets and their loved ones. We meet with every customer to discuss their short-term and long-term insurance requirements so they have the protection they need now with an eye to the future as well.
Let your local insurance specialists at Orlando Insurance Center help you save in the purchase of insurance bundles. Give us a call today at (407) 680-1214— for an initial consultation and quotes from among 20 different insurance carriers who support us!